A SHORT STORY ABOUT THE HEALTH OF A SMALL HYDRAULIC UNIT

My name is Kimberly, but you can call me Kim. That's what the service people call me – Kim, the little hydraulic unit. I am 11 years old and have lived in this plant all my life. Even though I'm middle-aged, I've had a lot of health problems.
One time I had so much dirty oil inside that it caused my pump to cavitate. I was unplugged for a week and had a complicated operation to replace the pump. Another time I had a jammed solenoid valve. Oh, I remember how badly it burned! It took the guys at the factory forever to find it. But, since I don't run anymore. I feel like the filter is still a little clogged and the oil is still pretty dirty. Really, I can't run as fast as I used to.
The plant wants me to work around the clock, no days off or vacation! I know how important I am to the people at the plant. If I don't work, they don't get a "profit." I don't know what profit looks like, but it's important to them, so it's important to me.
I wanted them to take better care of me. I get visits from a bunch of people all the time. They all check my oil level, but no one checks my solenoids, clutch or pump. Fedor often comes by to check my motor, but he never cleans it. Mr. Mechanic says Fedor is a "prima donna." It's so funny because I've never seen a "prima donna" with a wrench. In fact, I guess I see a lot of prima donnas, so.
My health problems started when I was very young. I had my first emergency downtime. Mr. Plant Manager instructed the crew that I needed more preventive maintenance. He told Mr. Mechanic to schedule a new maintenance schedule. Mr. Mechanic was busy with other breakdowns, so he approved the PM document "PM 45-354-675 Hydraulic Unit" and nothing else. 45-354-675 is my nickname in case you were wondering. Not the best nickname, but pretty unique.
Some time later, before my pump started cavitating, Mr. Palych, the lubrication specialist, set another preventive maintenance task for me. He said check the oil level and filter. After replacing my pump, Fedor added a "Check Pump" task to the schedule. But most people here don't even know how to check my pump. They don't know what each of my gauges actually shows and what those readings should be. For example, my pump outlet pressure was 1800 and it should be 1950 atm.
I wanted them to take better care of me. People do spend a lot of time with me though. Take a look at my charts:
– everyone is checking the oil level.
– Fedor and also Mr. Mechanic are checking the engine temperature
– Mr. Palych changes the filter every 6 months
– Palych takes an oil sample every month and sends it to the lab, but no one reads the report…this is bad!
– Mr. Mechanic takes the pump temperature, sometimes Mr. Manager does that as well.
My maintenance schedules have been supplemented after each accident. And now I have many people checking my assemblies, many tasks, but they are very inefficient. No one sees the full picture! I've been bombarded with so many TO's that it's hard to imagine when I should be working.  Here's a look.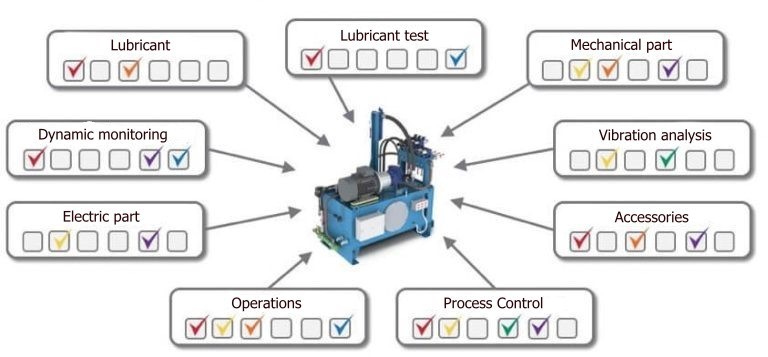 That said, I have many other nodes to check, but I think they are forgotten or just not thought of, not considered.
No one ever checks my clutch, the efficiency of my cooler or solenoid in the cooler, the cleanliness, the vibration on my pump and motor, and no one pays attention to my leaks at all, they are acceptable. They also leave my internal systems open, so all the dirt can get into my system. My systems should have air as clean as 3 microns, but my air filter is only capable of 25 microns. They say if you set up a better filter, it clogs up too quickly…
If only my team got together, if only to look at the big picture and coordinate their efforts, I'm sure the team would spend less time with me. The program would look something like this: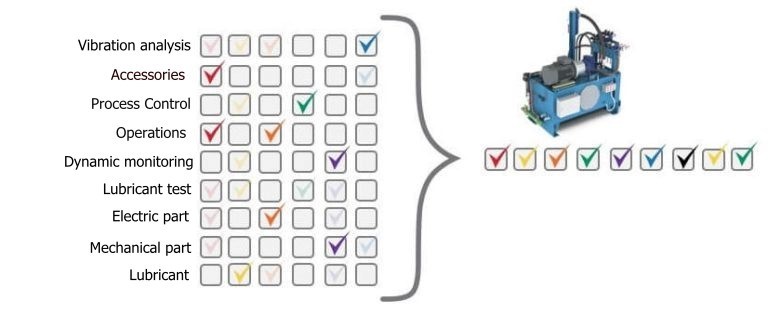 They would cover all the major preventive maintenance tasks, stop duplicating them. And I would have had fewer breakdowns, OEE would have gone up significantly, increased availability time, increased quality, and decreased scrap. I'm sorry, but RCM and other related tools, would remain in my dreams. And I pity my younger brothers and sisters who are not yet born, but who are destined to work here. For no matter how strong, reliable, and efficient they may have been at birth, their health will end hastily under such conditions. And they will be sad that they will not be able to run as fast as they used to…